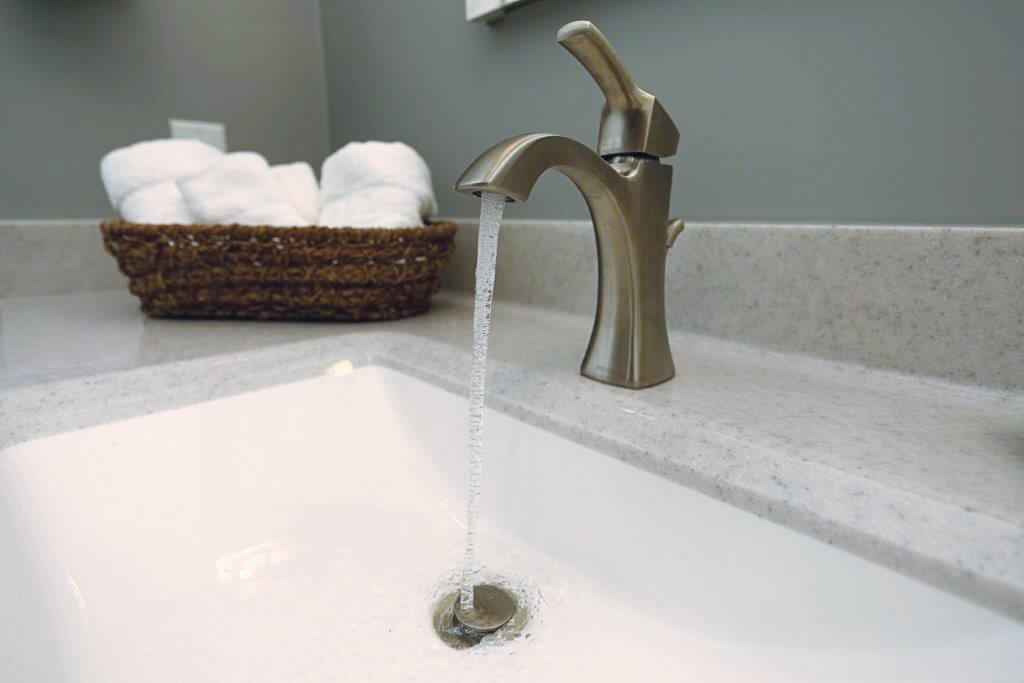 Solid Surface Care
How do I care for my new solid surface installation? The inherent qualities of your new solid surface shower, sink or counter top ensures you the ultimate in easy care, maintenance and renewability. Its solid, nonporous composition makes it simple to live and work with for as long as you own it.
Routine Care
Gloss and Suede Finish The beauty of solid surface countertops, sinks and showers is the ease of cleanup and maintaining its new shiny look. To clean, simply wipe with a soft cloth or sponge using a mild soap and water or a non-abrasive foaming cleaner. Difficult stains can be removed by using a very mild abrasive (Bon Ami cleanser) and a soft sponge. To maintain your luster, periodically apply a protective coat of wax sealant. At Silverado Construction we recommend applying a coat of GelGlossTM every few months depending on your use. Car wax is also a good means of protection.
Matte Finish Use a soft sponge or clean cloth along with a mild soap and water. You may also use a very mild abrasive (Bon Ami cleanser) cleaner for this type of finish, just go slow and check the finish periodically. You may also put a protective coat of wax with GelGlossTM or car wax on a matte finish.
Preventing Heat and Other Damage
While your new solid surface counters are quite resistant to heat, we recommend that you always use a trivet or a hot pad to protect them. Hot pans and some heat-generating appliances like crock pots or skillets may damage the surface if care is not used.
In the majority cases, your solid surface counters are repairable if accidentally damaged, however, you can follow these guidelines to prevent any lasting damage: Avoid exposing your solid surface installations to strong chemicals, such as pure acetone, bleach, oven cleaners, paint removers, etc. If contact does occur, be sure to quickly flush the surface with water.
Remove nail polish and acrylic stains with a gentle, non-acetone-based nail polish remover and quickly flush with water. Never cut food directly on your countertops.
Removing Cuts and Fixing Scratches
Scratches, nicks and cuts are unfortunate but inevitable with every high-use product, including solid surface countertops, sinks and showers, however since the material is solid, it can generally be renewed to its original appearance. To remove minor scratches from gloss surfaces, we recommend that you use a 3M gray finishing pad #7415 to sand with light pressure in a circular motion. Keep the area slightly wet as you sand and then wipe clean.
If scratches are much deeper and still remain, wet sand in an even circular motion using 320-grit wet/dry sandpaper. Follow up with the great 3M finishing pad. Again, for the best results, sand the surface slightly wet, and be sure to clean before each step. These products are generally available at most hardware stores and are located in the paint department.
Remember, the finish on your countertop was polished using an orbital sander. Because of the speed and varying orbit of the sander, hand motion alone might leave a slightly different finish. We recommend for best results that you work on a wider area than the affected area alone and feather into the sanded area or re-finish the entire surface with the 3M finishing pad. For greater uniformity use Countertop MagicR cleaner over the entire surface. Countertop MagicR is available at most hardware stores and is located in the cleaning supplies section.
Renewing Your Countertops
Nicks. Cuts. Stains. Scratches. Though these can permanently compromise most other surfaces, they won't ruin the appearance of your solid surface installation, because they can almost always be restored to their original state. If/when damage does occur, solid surfaces can be repaired in place and on-site, saving you both downtime and aggravation.
Periodically, you may wish to have your solid surface installation refurbished professionally. Our customer service department can assist in arranging this service. Thank you. We know you will enjoy your new solid surface countertops for many years to come!
Still have questions or concerns? Want a quote now?
Fill out our quote form and one of our account professionals will reach out to you as soon as possible.
Get A Quote For Your Bathroom Remodel
Most enquires are replied to same business day.